Do it now kids
December, 2016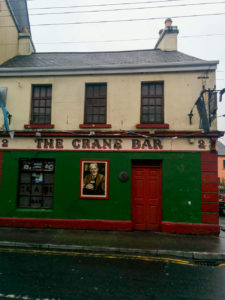 When the Irish literary magazine Crannóg accepted my short story for their fall issue they emailed me an invite me to the launch party at The Crane Bar in Galway, Ireland. Two days later my husband, Paul, and I bought plane tickets.
"Do it now, kids," my mother-in-law tells us, often. Recently she moved from her big house in the Kensington hills into an assisted living place, giving away most of her things. Paul and I got the suitcases. Paul's mom's traveling days are behind her. My own mom has cancer and her traveling days are on hold. Our son's living on his own in San Francisco, doing well. Now's the time to be bold.
So we did it. Even though we couldn't really afford the trip, even though it was crazy. And I'm so glad we did. Meeting other writers at the pub that evening and reading my story, Autumn Sonata, was a huge thrill.
Ireland seems to be a country that welcomes writers. While we were there, I stood beside Oscar Wilde's statue in a Dublin park. I didn't make it to James Joyce's Martello tower in Sandycove. (Though I did reread the tower scene at the beginning of Ulysses, just in case.) But I did have the opportunity to pay my respects at W.B. Yeats's grave in County Sligo and read the words I first encountered in English class: Cast a cold eye/on life, on death/Horseman, pass by!
"Do it now, kids."
The next time my mother-in-law says those words, I'll tell her we're trying. I know. The time is now.